North Carolina Maltese Puppies,

TooSweet Kennel

My Address

205 TooSweet Rd Sylva NC 28779

We live in SYLVA, NC 28779.We are one hour from ASHEVILLE We live off of Hwy 441 South. Call to get better directions. Merge onto US-23 S/US-441 South EXIT 81 toward DILLSBORO / FRANKLIN / ATLANTA. 8.71 miles.Turn LEFT onto PUMPKINTOWN RD. Go 4 1/2 Miles up PUMPKINTOWN RD. On Your Right You will see around 20 mailboxes. There will be a road to the right after the 20 Mailboxes.Turn Right on TooSweet Rd. First Double wide on Left.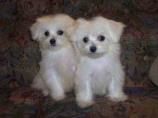 Click On Map To Get Direction

Maltese Puppies In North Carolina